This grain bowl recipe checks all the boxes: it has plant-based protein, lots of veggies, a vibrant sauce, and a scoop of sauerkraut for pop!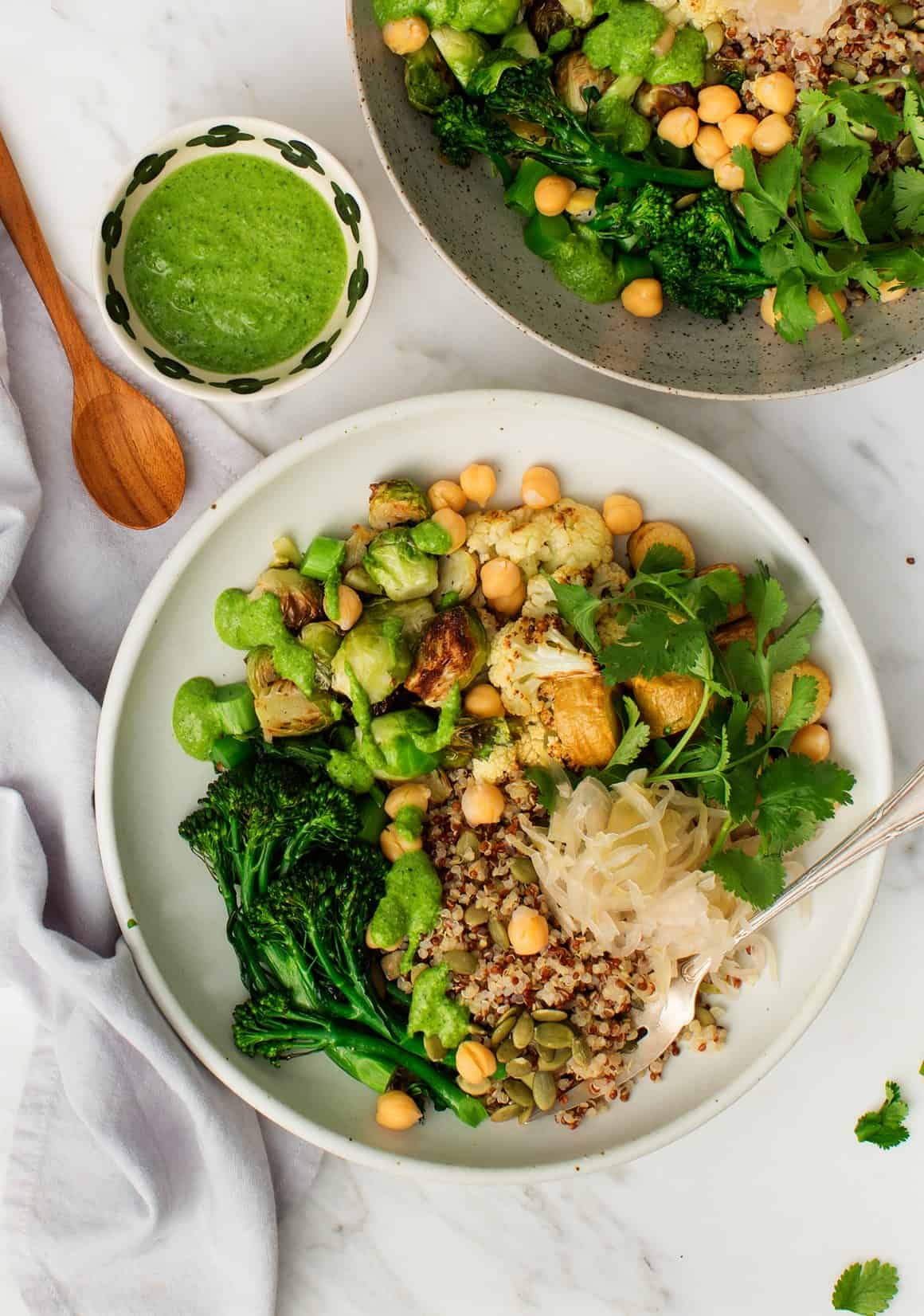 This grain bowl recipe is Day 1 of a meal planning week here on Love and Lemons! Why? Well first and foremost, it's because our meal planning journal, The Love & Lemons Meal Record and Market List, is out today! If you missed my post last week, click here to read all about it. If you haven't pre-ordered one, click here to get one now!
When I write about meal prep or making quick, easy dinners throughout the week, I often suggest cooking components on Sundays in big batches. I like this approach, but this week I'm doing something a little bit different. Starting with one meal – this yummy, easy Roasted Veggie Grain Bowl – I'm going to transform the same components into a new dinner every night for 5 nights so that each new meal builds off of the previous one. Find the recap for the whole week here!
How to Make an Awesome Grain Bowl
A grain bowl was a natural choice for the start of our meal plan week, because all good grain bowl recipes rely on components. I used them first in this grain bowl recipe and then mixed and matched them into other meals throughout the week. Here are the component categories I started with:
A grain: I use quinoa! It's naturally gluten-free, and it packs a punch of plant-based protein.
Plant-based protein: I use chickpeas, one of my go-tos. Feel free to roast them for extra crunch!
A yummy sauce: A super-bright, vibrant kale pepita pesto.
Fresh vegetables: I top this bowl with roasted cauliflower, broccoli, Brussels sprouts, and parsnips for a surprising sweet twist.
A pickle: Sauerkraut adds a tangy, briny twist to this healthy quinoa bowl.
Something extra: Top it all with pepitas for crunch!
Load these components into this grain bowl recipe tonight. Then, mix and match them into the other recipes in the meal plan throughout the week!
Recipe Variations
I love making this grain bowl recipe as part of my 5-day meal plan, but it's also a great template for making a DIY grain bowl at home. To make your own bowl, think in terms of the categories I listed above:
A grain: Use quinoa, or try farro, white or brown rice, cauliflower rice, or even wheat berries or millet!
Protein: Think baked tofu, tempeh, black beans, or lentils. If you're not vegan, try topping your bowl with a poached or fried egg!
A yummy sauce: Peanut sauce, chipotle sauce, cilantro lime dressing, basil pesto, or tahini sauce would all be delicious.
Fresh vegetables: Any roasted or raw veggie is at home in a grain bowl! Mix and match veggies according to the flavor profile you're going for. Experiment with grilled corn, sweet potato, bell pepper, cabbage, cherry tomatoes, and more.
A pickle: Pickled onions and jalapeños are two of my favorites.
Something extra: I like to add nuts and seeds for crunch, but feta cheese and fresh herbs are yummy add-ons too.
Let me know what variations you try! In the meantime, you can record your own meal plans here in our pretty (and pretty useful) new meal planning journal 
.
More Favorite Grain Bowl Recipes
If you love this grain bowl recipe, try making one of these tasty bowls next:
Roasted Veggie Grain Bowl
This roasted veggie grain bowl is an easy, healthy dinner or make-ahead lunch. See the post above for ideas for customizing it based on what you have on hand!
Ingredients
Grain (makes extra):
1 cup raw quinoa, rinsed
1¾ cups water
Creamy Kale Pepita Pesto (makes extra):
½ cup pepitas (or shelled raw pistachios)
2 small garlic cloves
1 packed cup chopped kale
1 packed cup cilantro, more for garnish
¼ cup fresh lemon juice
½ teaspoon sea salt
freshly ground black pepper
½ cup extra-virgin olive oil
½ cup water
½ teaspoon maple syrup or honey
Roasted Vegetables:
2 parsnips, chopped into ½ inch pieces
florets from ½ cauliflower
½ bunch broccolini
1½ cups halved Brussels sprouts
Protein:
1 (14-ounce) can chickpeas, drained & rinse, use ¼ cup per bowl, save the extra
Pickle:
scoop of sauerkraut (I like Bubbies)
Extras:
sprinkle of toasted pepitas
Instructions
Preheat the oven to 425°F and line 2 baking sheets with parchment paper.
First, make the quinoa. Add the rinsed quinoa and water to a medium pot. Bring it to a boil, cover, reduce the heat, and simmer for 15 minutes. Remove from the heat and let it sit, covered, for 10 more minutes. Fluff with a fork. This will yield about 3 cups; I used a heaping ½ cup per bowl.
Next, make the sauce. Combine the pepitas, garlic, kale, cilantro lemon juice, sea salt, pepper, olive oil, water, and maple syrup or honey in a blender and blend until smooth.
Then, roast the vegetables. Place the parsnips, Brussels sprouts, and cauliflower on one large baking sheet. Place the broccolini on the second baking sheet. Drizzle the vegetables with olive oil and pinches of salt and pepper, toss to coat, then spread evenly onto the sheets. Roast the parsnips/Brussels sprouts/cauliflower 20 to 25 minutes or until golden brown around the edges. Roast the broccolini for 10 to 12 minute or until tender. When cool to the touch, chop up the broccolini stems.
Assemble bowls with a scoop of quinoa, the roasted vegetables, about ¼ cup chickpeas, and a scoop of sauerkraut and top with pepitas. Drizzle with the sauce. Season to taste with additional salt and pepper, if desired, and serve. I assembled these components into 2 bowls (although the whole recipe will make 4) and saved the leftovers for tomorrow's dinner - stay tuned!
Store the extra sauce, quinoa, and remaining chickpeas in the fridge.