Pesto is one of my favorite condiments to keep on hand. Try these easy, fun pesto recipe variations to brighten pasta, salads, roasted veggies & more!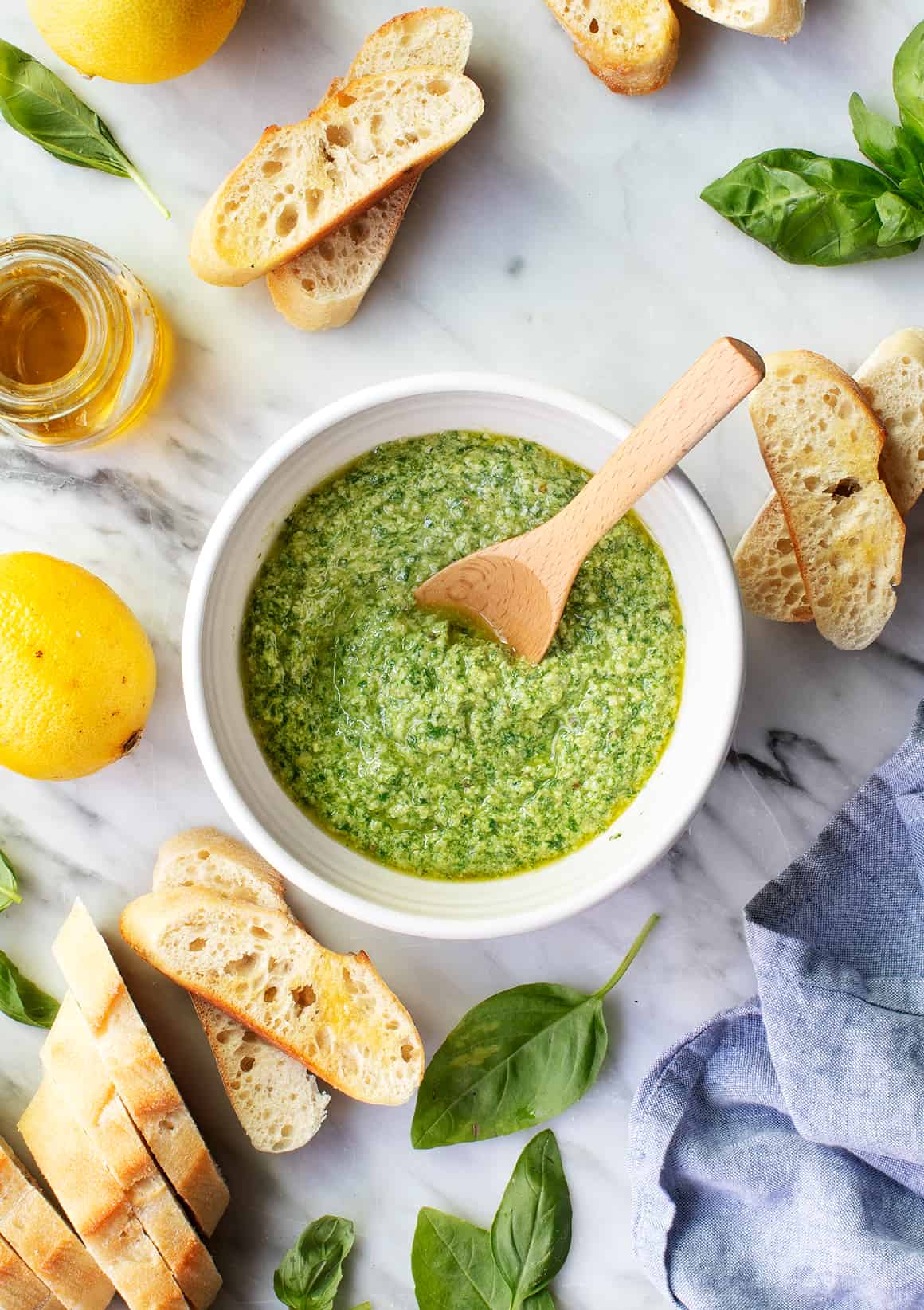 One of my favorite things about summer is the bounty of fresh herbs that are just outside my doorstep. Fresh herbs make any meal instantly more flavorful and beautiful. My favorite thing to do with all of those fresh herbs (aside from sprinkle them on everything) is to make pesto! It's especially great for lazy summertime cooking. I like to dollop it on grilled vegetables, pasta, spaghetti squash, salads, eggs, toasted bread, pizza, sandwiches… you get the idea. With just a few easy steps, it makes anything an instant tasty meal, whether you feel like cooking or not.
What is pesto, and how do I make it?
Traditional pesto is a blend of fresh basil, garlic, pine nuts, extra-virgin olive oil, and Parmesan cheese. With a food processor, it comes together in just a few steps:
Pulse the nuts, lemon juice, and garlic in the food processor until they're finely chopped.
Add the basil and pulse again.
Next, drizzle in the olive oil with the food processor blade still running.
Finally, add grated Parmesan cheese and process briefly until combined. For vegan pesto, simply skip the cheese.
That's it! It's really simple to make, and it's easy to vary according to the season or your mood. It will keep for a few days in an airtight container in the fridge, though its surface may start turning brown. As a result, it's best to cover your pesto with a thin layer of plastic wrap or an extra drizzle of oil before sealing your container. This will keep it fresh and green!
Pesto Recipe Variations
Once you've made the classic basil pesto recipe, try changing it up! You can make delicious variations with all sorts of nuts, seeds, veggies, and leafy greens. Here are some of my favorites:
Swap out the pine nuts for any nut of your choice! I particularly like walnuts, almonds, and pistachios.
Make nut-free pesto by using pepitas or hemp seeds.
Use a different herb. Try replacing the basil with mint, cilantro, or parsley!
Or fewer herbs. Replace half the basil with 1 cup arugula, kale, or chopped zucchini. For a punchier twist, pulse in 4 artichoke hearts, a roasted red pepper, or half an avocado instead of half the basil.
Don't let your veggie stems go to waste. Blanch 1/2 cup kale stems and blend them into pesto in place of half the basil.
Punch up the flavor! Add 2 to 4 sun dried tomatoes, a charred jalapeño, nutritional yeast, or a pinch of red pepper flakes.
The possibilities are endless – let me know if you have a favorite variation!
I made pesto! Now what do I do with it?
The obvious choice is tossing pesto with pasta, but your options don't end there. Spoon it over a Caprese salad, top it onto a grain bowl, scoop it onto spaghetti squash or mac and cheese, or incorporate it into this yummy zucchini casserole. We love it on polenta and homemade pizza, too. It's even great on scrambled eggs! Do you have a favorite way to use pesto? Let me know in the comments!
Basil Pesto
This classic basil pesto recipe is nutty and bright. We love it on pasta, pizza, and more! See the post above for my favorite pesto sauce variations.
Instructions
In a food processor, combine the pine nuts, lemon juice, garlic, salt, and pepper and pulse until well chopped.

Add the basil and pulse until combined.

With the food processor running, drizzle in the olive oil and pulse until combined. Add the Parmesan cheese, if using, and pulse to briefly combine. For a smoother pesto, add more olive oil.