Learn how to cook lentils perfectly every time! Tasty, nutritious, and easy to make, they're a fantastic way to add protein to salads, side dishes, and more.
If you're interested in adding more plant-based meals to your diet, lentils are one of the first things you should turn to. These tiny legumes are protein and fiber powerhouses, they're easy to cook, and they have a delicious earthy flavor that adds to all sorts of dishes. Read on to find my go-to method for how to cook lentils, along with information about different varieties and my favorite lentil recipes.
How to Cook Lentils
My method for how to cook lentils is easy! It comes down to 2 basic steps:
Rinse. On occasion, you'll find small rocks or debris mixed in with dried lentils. To avoid eating them, rinse the lentils in a fine mesh sieve and pick them over before you cook them. Discard any shriveled lentils in addition to debris.
Then, simmer! Unlike when you're cooking couscous or quinoa, you don't need to use a specific lentil:cups of water ratio. Just fill a large pot halfway with water, bring it to a boil, and add the lentils. Simmer until they're tender. The specific cook time will depend on what type of lentils you're cooking.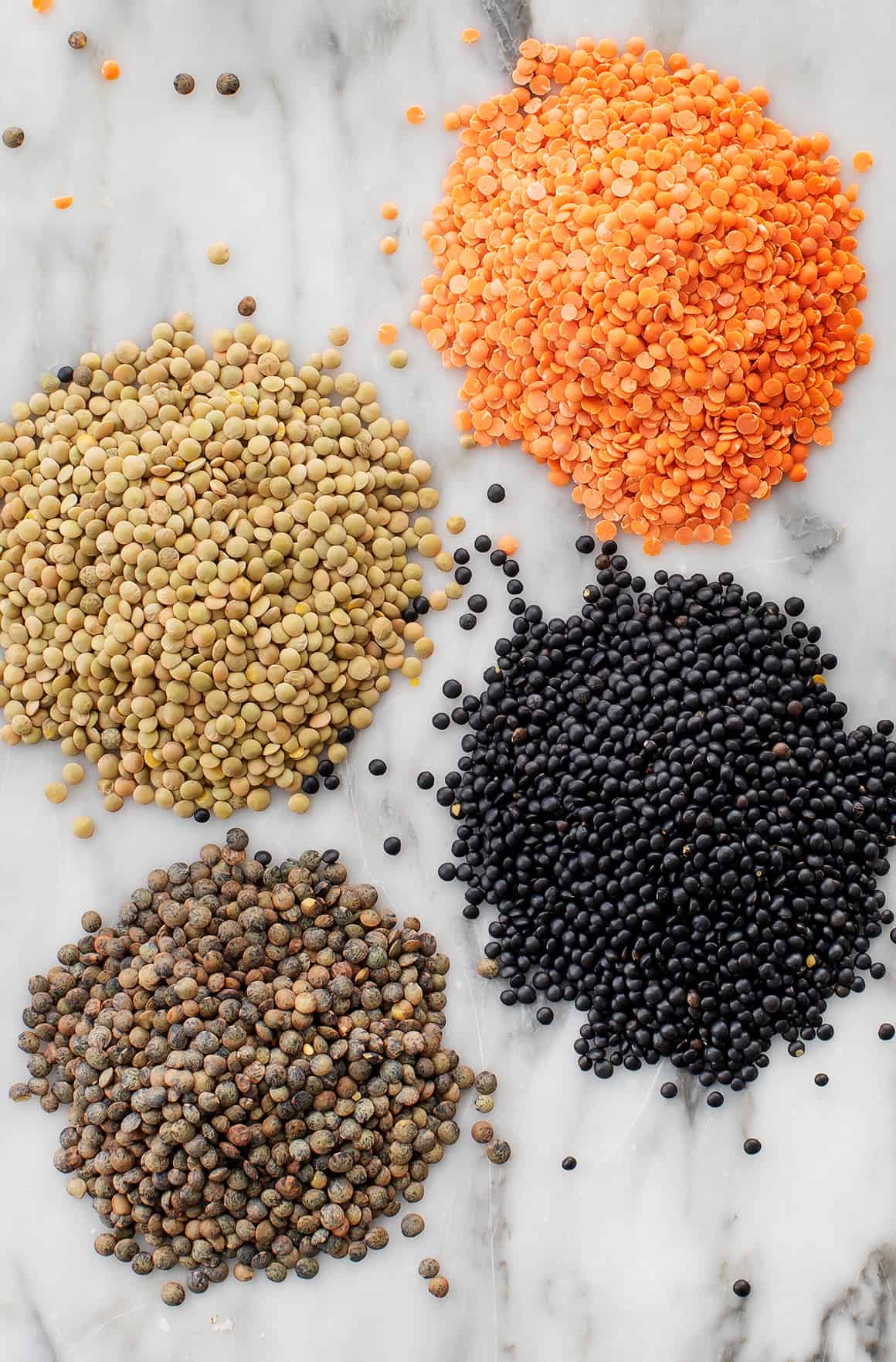 Types of Lentils and How to Use Them
Not all varieties of lentils are interchangeable, and each works particularly well in different types of recipes. Here are the varieties you'll most often see in stores, along with suggestions for how to use them:
Le Puy or French Green Lentils
My favorite type of lentils! These guys hold their shape as they cook, and they have a yummy firm texture. I like to use them in lentil salad and pasta sauce, and their hearty texture is also delicious in my curried lentil soup.
Beluga Lentils
These black lentils are very similar to the French green variety. In fact, you could use them interchangeably in most lentil recipes! They cook in about 20 minutes, and they have a nice bite. I turn to them when I want to add lentils to a salad or serve them on their own as hearty side dish.
Regular Green or Brown Lentils
If you're making a homey soup or stew, either regular green or brown lentils would be an excellent choice. Instead of holding their shape, they soften and become mushy as they cook. I like to add the dried lentils to a big pot of soup and let it simmer until they become tender, about 30 minutes.
Red Lentils
Red (or yellow) lentils cook much more quickly than any other variety. They become soft and tender after simmering for just 15 minutes! As they cook, they melt and dissolve, creating a delicious creamy texture. Consequently, they're a great choice for adding to thick curries, stews, or an Indian dal. I even blend them into a luscious, hummus-like dip!
Favorite Lentil Recipes
Below, you'll find my go-to method for seasoning cooked French lentils. I toss them with lemon juice, Dijon mustard, fresh herbs, and red pepper flakes to make a nutritious side dish or base for plant-based bowls. They keep in the fridge for up to 5 days, so they're one of my favorite proteins to meal prep and keep on hand in the fridge.
Beyond this simple preparation, there are endless ways to use them. Aside from the lentil recipes I mentioned above, these are a few of my favorites:
Do you have any favorite lentil recipes? Let me know in the comments!
More Plant-Based Cooking Basics
If you love this recipe, try one of these plant-based cooking components next:
How to Cook Lentils
This is my go-to method for cooking lentils. Once your lentils are cooked, try the tangy marinade that makes the lentils delicious and ready to be tossed into salads or bowls.
Ingredients
Lemon-Herb Dressing, optional
Instructions
Cook the lentils: In a medium saucepan, combine the lentils and water and bring to a boil. Cover, reduce the heat, and simmer, stirring occasionally, for 17 to 20 minutes or until tender but not mushy. Drain any excess water, let cool. Use in any recipe that calls for cooked lentils.

Make the Lemon-Herb Dressing: Transfer the cooked lentils to a medium bowl. Stir in the lemon juice, olive oil, salt, mustard, and pepper. Stir in the parsley and red pepper flakes, if using. Serve as a side dish or store in the refrigerator for up to 5 days.
Notes
Yields 2 1/2 cups cooked lentils.