The BEST guacamole recipe! Made with 6 simple ingredients, it's an easy party appetizer or delicious topping for tacos, burritos, and more.
If you need a last-minute appetizer for a cookout this weekend, make this guacamole recipe! Actually, scratch that. Make this guacamole recipe if you need an appetizer for a cookout, party, gathering, or get-together at any time of year. With just 6 ingredients, it's super easy to make, and it never fails to be a hit. It's creamy, tangy, salty, and delicious. Even Jack, who's generally not a fan of avocado, can't get enough of this homemade guac.
How to Make Guacamole
If this is your first time learning how to make guacamole, you won't believe how easy it is! You only need a few simple ingredients:
Avocados. Try to buy them a day or two in advance to make sure they're fully ripe. If they're soft, store them in the fridge until you're ready to make your guac. If they're firm (or rock hard), let them ripen at room temperature for a day or two. To check to see if they're ripe, squeeze them. They should have a slight give.
Red onion. It adds crunch and sharp, savory flavor.
Cilantro. For freshness.
Lime juice and zest. They make this homemade guacamole tangy and bright.
Jalapeño. For heat!
And salt. To make all the flavors pop. I typically use fine sea salt in my cooking, but I think that coarser salt makes the best guacamole. I recommend using flaky Maldon salt here, but if you don't have it on hand, regular kosher or sea salt will work just fine.
Dice the red onion, cilantro, and jalapeño, and zest and juice the limes. Slice each avocado in half lengthwise, and carefully remove the pit. Score the avocado flesh in a grid pattern, and use a spoon to scoop it into a large bowl.
Add the remaining ingredients, and gently mash with a fork or a potato masher to reach your desired consistency. (I like my guac chunky, but you do you.)
Season to taste, and enjoy!
Find the complete recipe with measurements below.
Easy Guacamole Recipe Tips
Make it just before serving. Like bananas and apples, avocados start oxidizing, or turning brown, after you slice them open. This discoloration won't change how your guac tastes, but it doesn't look appealing at parties and get-togethers. For the brightest, greenest guac, mash everything together right before serving. In the unlikely event that you have leftovers, transfer them to an airtight container and press a layer of plastic wrap over the guac's surface. Seal the container, and store it in the fridge for up to 2 days.
Taste and adjust. Everyone has different guac preferences, so don't be afraid to adjust your homemade guacamole to your tastes. If you like it tangier, add more lime. If like it spicy, toss in extra jalapeño. And always, always salt to taste.
Change it up! This easy guacamole recipe is great as-is, but that doesn't mean you can't play with it. Feel free to add extra veggies, cheese, or even fruit to create a new texture or flavor profile. I love sprinkling mine with Cotija cheese, stirring in grilled corn kernels, minced garlic, or chopped tomatoes, or topping it off with mango or pineapple salsa. It's also delicious with pickled onions or pickled jalapeños instead of raw ones or a swirl of adobo sauce from a can of chipotles. Let me know what variations you try!
Best Guacamole Serving Suggestions
I typically serve this easy guacamole recipe in one of two ways: as a dip or as a component in Mexican or Tex Mex meals. If you're enjoying it as an appetizer, you'll definitely want tortilla chips for dipping, and it tastes great with sliced veggies, too. Serve it on its own, or make a larger appetizer spread with refried beans, tomatillo salsa, tomato salsa, and/or pico de gallo.
Otherwise, dot your homemade guacamole onto nachos, or scoop it up with baked taquitos. Pile it onto a burrito bowl with cilantro lime rice and fajita veggies, or tuck it into a taco. Or make an at-home taco bar! Set out the guac, pinto beans or black beans, and whatever other fixings you like. Pile them into tortillas, and eat!
P.S. Don't forget the margaritas to drink.
More Favorite Appetizer Recipes
If you love this recipe, try one of these fun appetizers next: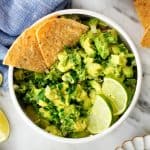 The Best Guacamole
You'll love this easy guacamole recipe! With just 6 ingredients, it's simple to make, and it's creamy, zesty, and delicious.
Ingredients
3

ripe avocados

¼

cup

diced red onion

¼

cup

finely chopped cilantro

Zest and juice of 2 limes

1

small diced jalapeño

½

teaspoon

coarse sea salt,

more to taste

½

teaspoon

cumin

,

optional

Tortilla chips,

for serving
Instructions
In a large bowl, combine the avocados, onion, cilantro, lime zest and juice, jalapeno, salt, and cumin. Mash until the ingredients are combined but still a bit chunky. Season to taste.

Serve with tortilla chips.